7801 Norfolk Avenue * Suite T-2 * Bethesda, MD 20814
Stage 2 A/V Productions has been specializing in cost effective video production since 1993. We have lots of experience in presenting big ideas within the constraints of limited budgets. We offer video editing, video recording at your location, voice recording at our facility, and image scanning. For those with larger budgets, we have access to script writers and professional voice talent. When your project is completed, we can handle the duplication end as well!
PARTIAL CLIENT LIST
The World Bank
Honest Tea
BAPA's Imagination Stage
Bethesda Urban Partnership
American Society of Nephrology
University Research Co., LLC
The B-CC Chamber of Commerce
The Children's Inn at NIH
B'nai Israel Congregation (Rockville)
Eye Doctors of Washington
Joy of Motion Dance
The Center for Sleep & Wake Disorders
Norbeck Montessori Preschool
Matheson Communications
Trawick and Associates
Manna, Inc.
The Children's Cancer Foundation
Baltimore County Parks and Recreation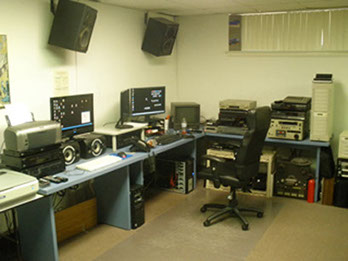 A BIT ABOUT OUR EQUIPMENT
Stage 2 A/V Productions first embraced the non-linear editing revolution back in 2001. Our tape-based editing system had served us well for eight years, but DVD quickly replaced the VHS tape as the preferred medium of delivery. Today, we strive to keep up with the latest developments in video. Nowadays, people not only want their finished video on DVD or blu ray, but also on USB thumb drives and uploaded to their YouTube channel. And they're more likely to come to us with source material on a video camera, SD card or a hard drive filled with files than a videotape. To meet the needs of our clients, Stage 2 A/V Productions has been upgrading our equipment to stay on top of the myriad possibilities of video in 21st century.
To start with, for video recording, we use the Sony PMW-EX1R for outstanding HD video.
On the editing side, we use Adobe's Production Premium suite (CS5.5) for video editing, DVD authoring, file conversions, graphics processing and audio production.

For video transfers, we use Panasonic Pro VCRs with time base correction, and a Pro Yamaha Cassette Player for our audio transfers.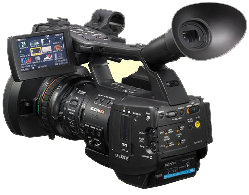 ABOUT OUR VIDEOGRAPHY
Camcorders and smart phones are a great way to capture family memories, but they're not so great for capturing your corporate presentations. Even if the picture looks good (and that's a big "if"), most people find out too late that the sound is unacceptable. Smart phones and camcorders from the local electronics store aren't equipped to handle sound in the way a professional camera is.
Stage 2 A/V Productions uses Sony 3-chip hi-def digital camcorders. Consumer camcorders only have one chip, or CCD, for capturing images. The difference in the video quality is very noticeable, especially in low light. Colors are sharper, blacks are actually black, and there is less "noise" in the picture. We also use heavy duty Manfrotto tripods to maximum stability.
Stage 2 A/V Productions is often able to take a feed the P.A. system for recording the sound of a presentation. When we can't (or if there is no P.A.), we bring wireless lavaliere microphones for the presenters to use. The sound from these microphones won't be heard by the audience, but the sound on the videotape will be loud and clear.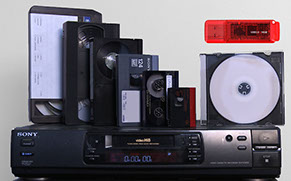 ABOUT ARCHIVING TAPES TO DVDs, MP4s OR CDs
VHS videotapes and cassette tapes will not last forever. Each time you play a tape, you run the risk of the tape getting jammed in the player, ruining it beyond repair! Even if you don't play your tapes, over time, the binder that holds the oxide to the tape can break down, causing information on the tape to be lost. It cannot be recovered!
The solution is to archive irreplaceable recordings on DVDs and CDs, or digital files.
Why choose Stage 2 A/V Productions for your video archiving?
Most companies charge by the tape, regardless of how long the tape is and they wont combine tapes on a single DVD. We charge by actual recorded time plus a small fee for tape changes. The total cost can be significantly less expensive with Stage 2 if you have a large number of tapes.
We transfer tapes right here in our Bethesda facility. Theres no risk to your tapes being damaged or lost in shipping
VHS tapes are played on pro VHS VCRs. DVDs are archival grade media (Mitsubishi MCC 02RG20)
Our MP4 files are encoded at 8 Mbps (a higher bit rate than many other companies)
No charge for quotes. Bring your tapes to us and we will go through them, calculate the total time and tell you exactly what the cost will be. There is no obligation to have the work done until you approve the quote.
Stage 2 has been in business since 1993 and we have been transferring tapes to DVD since 2004
Copyright 2017 Stage 2 A/V Productions